THE ROUTE
Scenic Captivating Memorable
Stage One

Distance: 52km
Elevation: 1050m
As you start your Great Zuurberg Trek north of the Zuurberg Mountain Inn, you'll be retracing the ox-wagon tracks of the Voortrekkers. Enjoy the original road that would take you north up to waterpoint one at the 15km mark. A long steady 8km climb out of the valley followed by a fun switchback downhill known as Gowar's Gauntlet takes you to the second waterpoint at 20km.
The route continues west along the Elephant Back road until you reach the next waterpoint at 35km. This is your final waterpoint and it would be a good idea to refuel and gather your strength for the final steady climb to the finish at the Zuurberg Inn.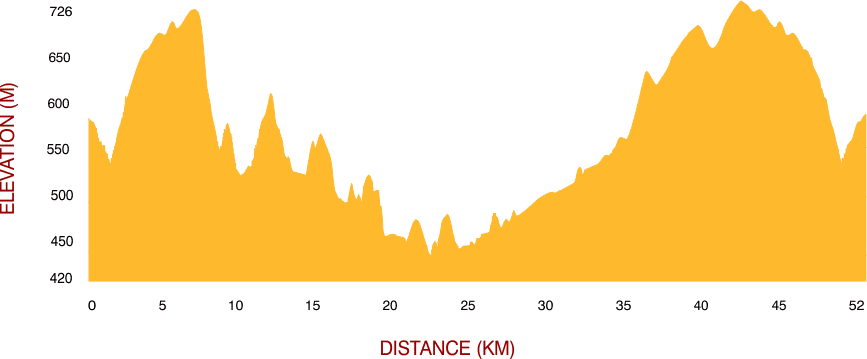 Stage Two

Distance: 58km
Elevation: 1200m
The initial 10km will be familiar from the previous day. After that, you'll venture off the beaten path, descending Seven Dwarfs Drop with breathtaking views into Otters Valley. Follow the Witrivier for 7km, then tackle the first major climb to reach the waterpoint atop Monti's Hill.
Enjoy the scenic vistas of Slagboom Dam during a fast descent and short climb. Pedal over undulating terrain along Slagboom Road, passing through Enon. At the 40km mark, find the second waterpoint.
Immerse yourself in the citrus orchards of the Sundays River Valley until waterpoint three at 55km. Pass through Intsomi Reserve, sample Hayterdale's singletrack, and reach the fourth waterpoint at 70km. Conquer the uphill final 10km with determination.

Stage Three

Distance: 50km
Elevation: 1200m
Stage three commences with a challenging 1km climb, spreading out the participants. After traversing the hotel grounds, you enter the singletrack, marking the start of the excitement. Brace yourself for a thrilling 5km rollercoaster ride along the Zuurberg mountains, followed by a quick ascent and a fast downhill stretch. 
The Hayterdale XCO tracks await, with a demanding switchbacked climb at 10km. Enjoy a brief break on 6km of meandering jeeptracks before reaching the first waterpoint at 17km. Cross over to singletrack, embarking on a major climb toward Zorr's Rollercoaster. 
The exhilarating descent leads to the second waterpoint. Prepare mentally during the 5km easy ride before entering the mountain bikers' paradise of Hayterdale XCO track, boasting thrilling rides like The Gorge, Corkscrew, Rabbit Hole & Trevor's Surprise. Finally, conquer the formidable Zuurberg Pass for the finish line.